Whole Home HEPA 1500 Air Purification System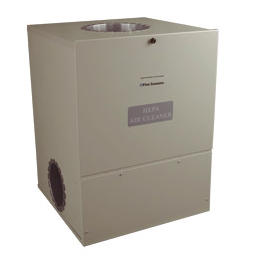 Ideal for homes 1700 to 2800 ft².
Powerful European Motor delivers 330 CFM (561 m³/hr) of pure air.
Up to 40 air changes per day in a 1500 ft² home.
Up to 30 air changes per day in a 2000 ft² home.
Up to 24 air changes per day in a 2500 ft² home.
Versatile installation can be freestanding, ceiling, wall or floor mounted.
Carbon Prefilter Blanket removes lint and odors, to extend life of HEPA filter.
Certified True HEPA Filter Cylinder contains 100 ft² (9.29 m²) of material.
Plug-in Power Cord for easy electrical connection.
Heavy gauge steel cabinet and powder-coat paint finish provide rigid installation and durability.
Small footprint for easier, more convenient installation.
125 Watts maximum
Measures 18.0 x 18.0 x 24.5 inches.
Weighs 51 lbs (23.1 kg).
Options Available:
European Variable Speed Motor – Model FSHEPA450VS.
Carbon VOC After Filter helps remove odors and gases.

Price $2999.00
Includes Professional Installation