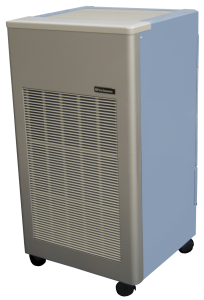 In our opinion, this is the best portable air purification system on the market. Designed for people with chemical sensitivity or who are concerned with the amount of chemicals in their indoor air, this system removes dust and very small particulates while neutralizing many airborne household chemicals.
Features include:
Carbon pre-filter protects the HEPA filter by removing the large particles and some odours
Long life HEPA media filter removes 99.97% of particles at .3 micron
Powerful German made motor delivers 250 CFM of air without adding static pressure to the HVAC system
One piece wrap, steel construction to eliminate air leakage
The clean air passes through a reflection chamber where two Ultraviolet Germicidal Lamps emit powerful UVC light rays that are designed to kill or inhibit bacteria, viruses, mould, fungus and microbial growth.
People are often unaware of how many chemicals are in the air they breathe. With this system, be confident that the air in your home or office will be free of harmful pollutants. Contact us today about purchasing this system for your home or office.
Tab content