Infrared Max Series Sauna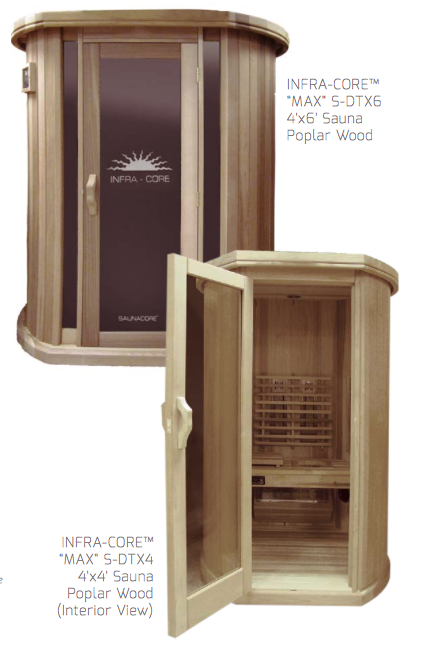 Soft-touch electronic digital keypad allows for time/ temperature settings, operation of the Rapid Even Air System, standby procedure, activates light, informs user of all these functions & has LED display readout.
Command II Controller will feature the latest generation of control panel to provide fingertip control to the sauna operation, audio system, fan, lighting etc. With Bluetooth streaming built-in, you can play music from your smartphone (Android, Galaxy, iPhone , iPad, Nokia, HTC etc.) and listen to it as you shower, while your device stays dry in another room. (Optional Upgrade)
Ceramic radiant heating emitters.
Full glass style door with etched logo.
Cedar backrest along wall for comfort.
Canopy & vented light fixture. (Canopy light optional upgrade)
Optimized cooling system.
Infra-floor system – optional upgrade.
Ergonomic cedar emitter guards.
Requires no plumbing.
Takes approx. 10 minutes to warm up.
Separates into pieces – totally portable.
S-DTX6 (4×6) 2600 watts 240V System.
S-DTX4 (4×4) 2200 watts 240V System.
Low gauss reading for electromagnetic field radiation.
Full spectrum lighting with SLP Technology – optional upgrade.
1/4 inch Bronze Tempered Glass front windows.
2×4 Clear Western Red Cedar bench with bevelled edges.
Costs approximately $4 – $6 dollars per month for electricity to operate.
Easy set-up operation takes approximately 60 min.
Rapid Even Air system which circulates warm air for a more balanced sauna.
Caster wheels on base of sauna make it easier to relocate or move.
Sauna is pre-built.
INFRA-CORETM medical grade emitters.
FM CD MP3 player with professional series coaxial speaker system for clear stereo sound.
Walls and ceiling are pre-fitted panels.
Benches are assembled from the bottom, while all walls are blind nailed.
LIMITTED LIFETIME WARRANTY on radiant heating emitters and five-year factory warranty.
INFRA-CORETM saunas are handcrafted by experienced craftsmen to the absolute highest standards in the industry.
Available in 240V (requires a dedicated 20 amp outlet – consult a licensed electrician.)
11/16 of an inch thick clear T&G Western Red Cedar on all Interior walls, ceiling, floor, and both exterior side walls. (Also available in poplar upgrade).
Surgical, stainless steel deflectors, housing, and cover shield.
Poplar wood – optional upgrade. Other wood types available upon request.
Made in Canada. Safety Certified.
Infra-Core saunas Do NOT have corner moldings which are used to cover up imperfections, all our cedar panels are custom cut and aligned to match from one wall to the other, all V-joint match up, each individual piece of cedar (or poplar) is cut and trimmed for an exact fit. Soft-touch low voltage electronic digital keypad; allows for time/temperature settings, operation of the Rapid Even Air System, standby procedure, activates light, informs user of all these functions, and has LED display readout saunas between 180°F – 220°F.